Nails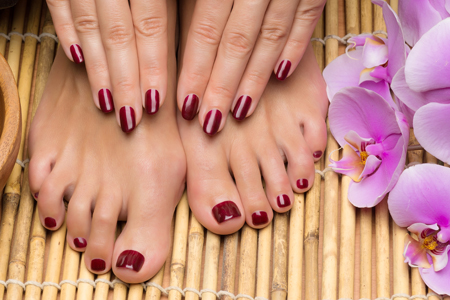 The appearance of nails and hands has become a visual benchmark in our society in assessing a person both socially and professionally. Our clients love the relaxation and pampering manicures and pedicures we provide.
Each Session last 45 minutes - 1 hour
Manicure Classic
$20.00
Cleanse, treat cuticles, trim, file, massage and polish
Manicure UV/LED Gel
$35.00
Light cured polish or UV/LED Gels is more durable than regular nail polish, It will last for 2 weeks. We are including a Gel removal free of charge with this treatment .
Manicure Luxury
$25.00
A classic manicure is combined with a sugar scrub, and a paraffin wax treatment to enhance the hydration of the hands and nails.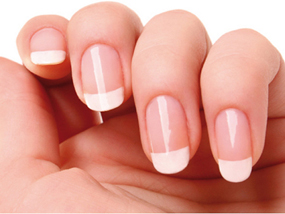 Sports Manicure
$15.00
A classic manicure without any polishing.
French Manicure
$30.00
Hard Gel with Tips
$45.00
Polish Change
$10.00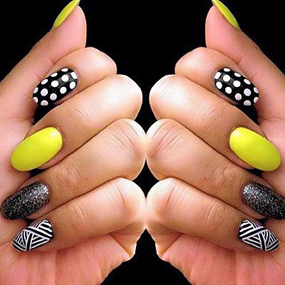 Removal of old nail polish, pushing back of cuticles, filing and reapplying new polish color. There is no soaking or hand massage involved.
Pedicure Classic
$35.00
Soak in a sanitized footbath with relaxing salts, trimming of toenails, filing and cuticle removal. Callus removal if necessary, massage of feel and afterwards applying polish.
Pedicure UV/LED Gel
$40.00
Pedicure Luxury
$50.00
Same as Classic pedicure with a sugar scrub added as well as paraffin wax treatment, a reflexology foot massage and application of color.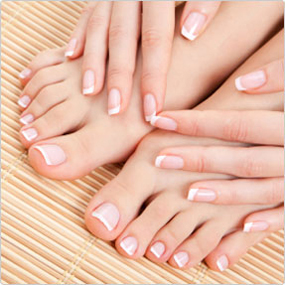 Sports Pedicure
$25.00
Classic pedicure without polish application.
Classic Manicure and Pedicure Combo
$50.00
UV/LED Manicure and Classic Pedicure Combo
$60.00
UV/LED Manicure and Pedicure Combo
$70.00
Nail Services add-on
$8.00
The Add on service includes Nail Art, Paraffin Wax, French Manicure, broken nail repairs.
Acrylic Nails Full set Manicure
$45.00
Structured Nail extensions with or without tips using Odorless Acrylics.
Acrylic Nails ReFill Manicure
$15.00
Silk Wrap Nails with Tips
$45.00